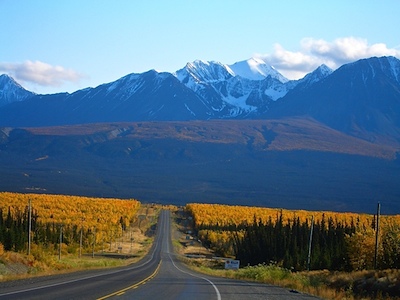 Image Courtesy of Elaine HansonThe Village of Haines Junction is 155 km west of Whitehorse (Yukon's Capital City) along the Alaska Highway. "The Junction" (as referred to by locals) is situated at the intersection of the Haines Highway and the Alaska Highway.
Visitors can access our community via the Alaska Highway or Haines Road. Both highways are well maintained, two-lane, surfaced, all-weather roads. Extreme winter driving conditions can occur on the Haines Highway.
There is a regularly scheduled shuttle to Haines Junction every Sunday and Wednesday from Haines, Alaska. This service runs from May until the end of September. More information can be found at http://www.HinterlandExpress.com
For local road conditions check out: http://www.511yukon.ca/
The Erik Neilson Whitehorse International Airport hosts carriers with regular flights to and from Whitehorse. Please click here for more information about flight carriers.
Vehicle and RV rental services are available in Whitehorse and onsite at the Erik Neilson Whitehorse International Airport.
Please check out the Travel Yukon website for more information on how to plan your trip.