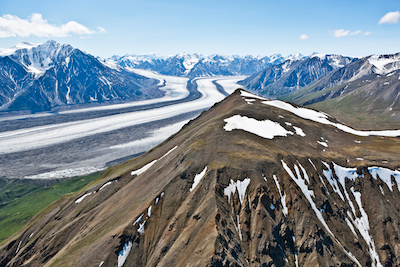 Credit: Parks Canada/F. Mueller
Haines Junction is gateway to Kluane National Park and Reserve. The park protects 21,980 square kilometres of Canada's spectacular North Coast Mountains including Mount Logan (5959 m/19,545 ft), Canada's highest peak. Kluane, plus neighbouring parks Tatshenshini in British Columbia and Wrangell-St. Elias and Glacier Bay in Alaska, make up a UNESCO World Heritage Site – the world's largest international protected area. Parks Canada cooperatively manages the park with the Champagne and Aishihik and Kluane First Nations, on whose traditional territories much of the park lies.
Experience Kluane!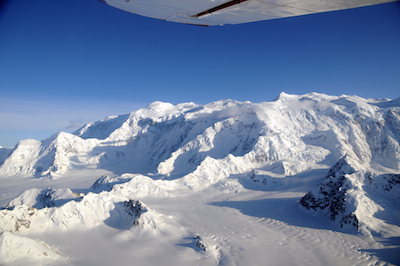 Mount Logan, Canada's Highest Mountain
Credit: Parks Canada/L. Gorecki
Kluane is a land of precipitous mountains and immense icefields rimmed by lush green valleys rich with wildlife. While expedition style mountaineering in the Icefield Ranges attracts expert climbers from around the world, flight-seeing tours into the icefields offer a readily accessible experience few will ever forget.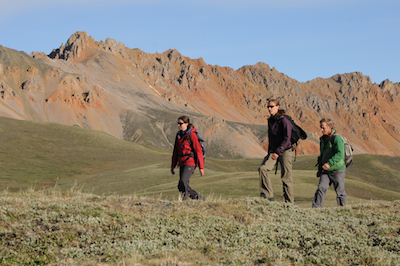 Hiking on Bullion Plateau
Credit: Parks Canada/L. Gorecki
In the Front Ranges closer to Haines Junction, visitors can enjoy casual strolls and easy mountain biking or challenging day hikes and extended wilderness backpacking trips. The Alsek River, a Canadian Heritage River, is renowned as a river rafting destination. For a relaxing stay in the park, consider Kathleen Lake Campground which is a hub of activities -- enjoy short self-guided walks, interpretive programs, fishing, boating or scenic hikes in the nearby mountains.
Visitor Centres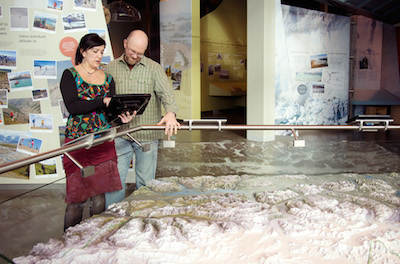 Kluane National Park Visitor Centre in Haines Junction
Credit: Parks Canada
Kluane National Park Visitor Centre
Kluane National Park and Reserve's Visitor Centre is located in the Da Kų Cultural Centre in Haines Junction. This centre provides visitors with a sense of the scale and drama of the land. World class exhibits offer stories of Kluane's vast, dynamic landscapes, majestic wildlife and rich cultural history.
A place of discovery for all ages with displays, touch screen programs, interactive games, videos, a 3D model of the park, stunning photography, artefacts and much more. Sit back and watch the stunning high-definition video that takes you on a journey to the very heart of the park. Parks Canada staff and a variety of resources are available to help you plan your own park adventure.
Tachäl Dhäl Visitor Centre
Tachäl Dhäl Visitor Centre is a one-hour drive north of Haines Junction on the Alaska Highway. In spring, it is possible to see Dall sheep on the face of the mountain and you can learn about these majestic animals and much more at the centre. Parks Canada staff are on hand to provide information and help you plan your trip.
Kluane National Park's Visitor Centres are open from mid-May until early September.
Contact Information:
Kluane National Park and Reserve
P.O. Box 5495
Haines Junction, Yukon
Canada
Y0B 1L0
Kluane National Park Management Board: www.kluanenpmb.ca
Kluane National Park Administration: 867-634-7250
Kluane National Park Visitor Centre: 867-634-7207
Fax: 867-634-7208
Email: kluane.info@pc.gc.ca