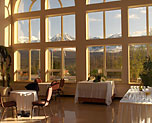 Image Courtesy of Village of Haines Junction
Hold Your Function In The Junction!
The community of Haines Junction has two event centres that can host a large event or small conference. Details of the St. Elias Convention Centre and the Da Kų Cultural Centre are listed below. Please view our business section for a comprehensive list of local businesses available to support your event.
St. Elias Convention Centre and Mezzanine
The Village of Haines Junction is currently renting out its facilities as per the Yukon Government regulations and recommendations. For more information about current capacity and guidlines for our facilities, click here.
The Village of Haines Junction has a Local Community Group and Individuals Support Policy to reduce financial barriers for accessing our facilities. You can download the policy here. (277 KB)
The St. Elias Convention Centre provides a first class meeting facility against a backdrop of snow-capped mountain peaks. In addition to meeting rooms ranging in size from 340 to 4000 square feet, the facility offers a central registration area, separate office space, full office services, extensive audio visual equipment and several hundred square feet of exhibit space. The Grand Hall can accommodate over 200 guests for dining, while built in retractable theatre style seating can seat 258. With the creation of the Haines Junction Permanent Art Collection in 2006, the St. Elias Convention Centre showcases several pieces and collections of artwork in the foyer and atrium areas, for both visitors and residents to enjoy.
Event coordinators are available pre conference and during conferences to assist with logistics as required and to ensure the meetings, special activities and contracted services run smoothly. The community boasts a number of talented residents and organizations that can provide a variety of services to visiting delegates whether it be food, entertainment, ground transportation, or guided interpretive tours.
Haines Junction lies on the edge of a vast and spectacular wilderness, and is headquarters for Kluane National Park & Reserve. A short drive, hike or chartered flight from the community offers an insight to the stunning mountain environment that Haines Junction lies adjacent to. Whatever the season, the area abounds with outdoor activities. And whatever your age group, fitness level or leisure activity of choice, local guides and outfitters are there to show the way.
Haines Junction has a proven track record of successfully hosting large events, whether it be conferences or annual community events that double and triple the population of the Village overnight. Residents take pride in going out of their way to make visitors feel welcome and to ensure their visit to the area is a memorable one.
Call 634-7100 for a customized quote or click here for a list of our current facility rental rates.
Da Kų Cultural Centre
The Champagne and Aishihik First Nations' Da Kų Cultural Centre opened in May 2012. Da Kų is home of the Champagne and Aishihik First Nations Cultural Centre. CAFN is excited to welcome you to "Our House" and to share our rich culture and heritage with you. We hope you enjoy our orientation exhibits, changing exhibition space, cultural programming and retail store.
For more information please visit http://cafn.ca/da-ku-cultural-centre/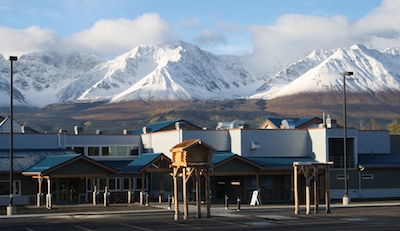 Image Courtesy of Champagne and Aishihik First Nations