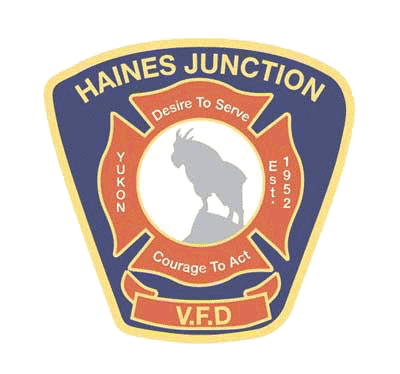 The Haines Junction Volunteer Fire Department was established in 1952 with the first Fire Hall on Bakke St. currently known as the Museum of Nostalgia. The present Fire Hall, located on Kluane Street, is home to the Fire Department, the Ambulance Service, and Kluane Search and Rescue.
Haines Junction has a strong tradition of volunteer fire fighters. HJVFD members respond to structural and vehicle fires; assist Wildland Fire Management with forest fires; attend at accidents and other scenes when requested, and perform anumber of other duties in service to the community.
HJVFD members meet twice a month at 1900 hours (7:00pm) the 1st and 3rd Tuesday of the month for training. These training nights are generally two hours in length. At the present time we are structured around a Fire Chief, Deputy Fire Chief, dispatcher and firefighters. Currently the HJVFD has 13 members and recruitment is ongoing.